Our Articles
Top 10 Stylish Men's Loafer Shoes, Flat Shoes, Pumps, Heels and Boots
by Raghbir Virk on May 03, 2023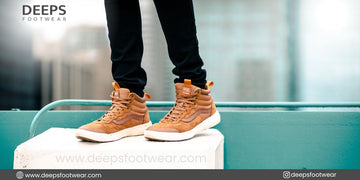 Shoes are among the most popular accessories for creating an eye-catching appearance for oneself. Shoes were initially created in the past to protect the human foot, but today they serve as both a method of protection and a fashion accessory. Nowadays, shoes are prioritised in fashion as a means of communicating an individual's personality. Even the men's shoes section today is keeping up with the times by adopting various trends and making men look fabulous.

Here at Deeps Footwear, we pride ourselves on our men's shoes collections which we have kept up to date with today's trends. The versatility of our shoes and the stylish looks that they can provide will make your wardrobe look like it's something out of a designer's studio. Here we've put together a list of the top 10 shoes from our men's shoes collection for you. Keep reading to learn more.
What type of Shoes do we offer?
Here are the types of shoes that we offer that can match with your outfits the best:
1.Loafer Shoes.
It is a style of shoe that you can put on and take off without the need for laces. The loafer is also a great indoor shoe and it is made for the purpose of lounging as well.
2.Boot Shoes.
Boots are a solid type of footwear that often encompasses the feet, ankle, and lower thighs. Also, boot shoes are also quite fashionable as they will match with most of your casual outfits and bring out the best in them.
3.Heel Shoes.
Heel shoes have long been the symbol of status and power. They have an interesting backstory with their use in aristocracy and armies further back than the 17th century. Moreover, fashion for heels shoes in mens fashion still continues as they're frequently paired with top hats, tailcoats and dinner jackets.
4.Flat Shoes.
Nowadays Flats have taken the fashion industry by a storm. With sliders, sneakers and boat shoes frequently pairing up with streetwear, there are various kinds of flat shoes in the market.
5.Pump Shoes.
The greatest appeal of pump shoes is the fact that they can be not only fashionable but also incredibly comfy to wear. Moreover, you can put them on without feeling uncomfortable all day, all week.
Our Top 10
Here are our best 2 shoes from each of the 5 types of shoes that we offer that make our top 10 list:
1.Bolero Men's Loafers With Leather Lining
2.Laver Men's Moccasin Loafers With Leather Lining

The loafer shoe is so practical and amazing that you can wear them indoors as well as out for a variety of circumstances. Also, the loafer is extremely versatile in terms of style. As a result, loafers are much more elusive to categorise than other shoe types like brogues and derbies.
3.Stuart Men's Faux Nubuck Desert Boots
4.Roamers Gusset Inside Zip Ankle Boot

As practical they are, boot shoes are also quite the trend-setters that happen to be the go-to choice for casual wear. Moreover, the comfort and protection they provide along with the ability to match with your daily-wear is almost unparalleled.
5.Romeo - Men's Lucini Cuban Heel Party Shoes
6.Conor - Men's Lucini Cuban Heel Shoes

If you're thinking about adding something extra to your evening gala or a dinner party outfit, try heel shoes. Moreover, the character of heel shoes along with the looks can enhance your formal and social event outfits and make you stand out.
7.Nev Men's Chunky Sole Sliders
8.Martin Men's Gladiator Summer Sandals

Flat shoes offer comfort and come in all ranges between minimalistic to jazzy. They have their own fan base when we're talking about travelling light but stylish. Additionally, these can easily be your daily-wear given their qualities and compatibility to go with just about any of your outfits.
9.Luke Original Memory Foam Trainers
10.Jeremy Original Retro Style Trainers

You can put pump shoes on without feeling uncomfortable all day, all week. Moreover, they go with formal casual and smart casual outfits which makes them ideal for wearing after or during work hours.
Conclusion
To summarise, men's shoes from Deeps Footwear come in a huge selection and are versatile enough for any situation. No matter what style of shoe you're in the market for—heels, flats, or boot shoes—we have it all. Additionally, every single one of the shoes we offer are available in a variety of materials, styles, and hues, making it simple to find the ideal pair to go with your personal fashion.

So wait no more! Shop for men's shoes with Deeps Footwear and step up your wardrobe game to another level. Visit our website to check out the shoes from our top 10 list.